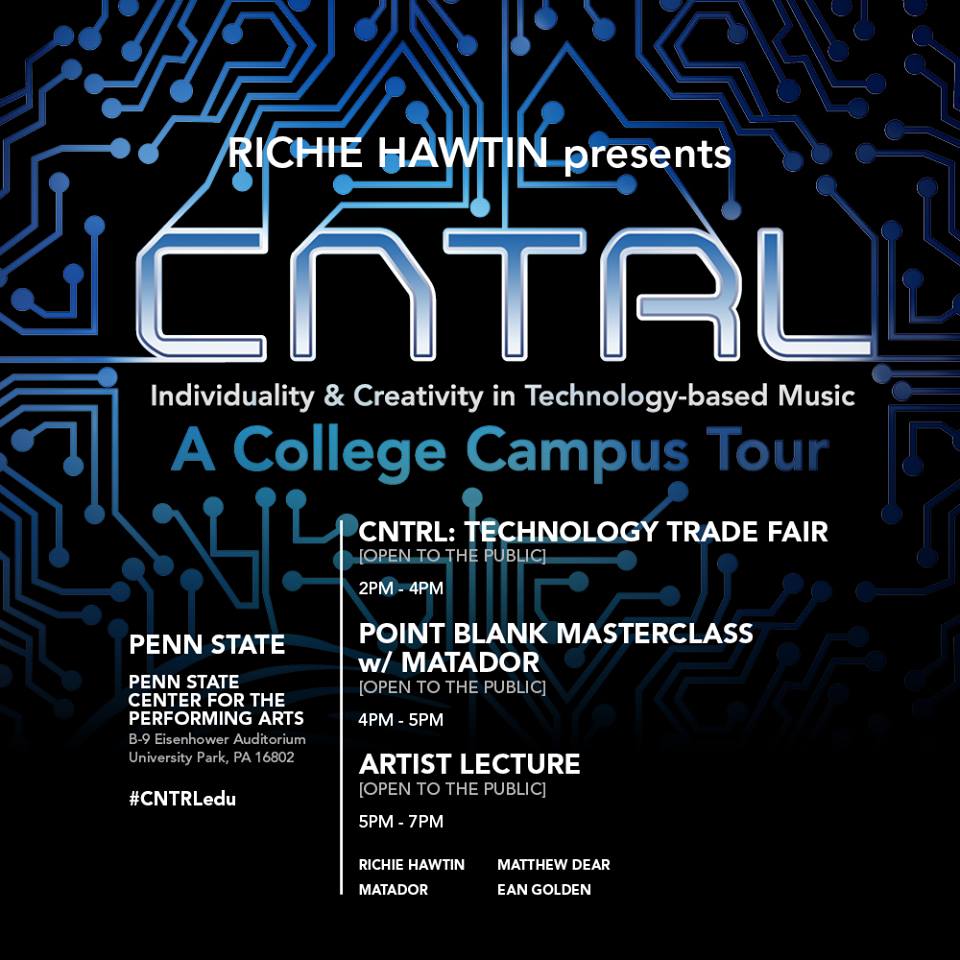 CNTRL: Individuality & Creativity In Technology-Based Music,
LECTURE INFO #CNTRLedu

​RICHIE HAWTIN proudly presents for 2015 CNTRL: Individuality & Creativity In Technology-Based Music, a college campus tour. Beginning April 15 in Boston, MA at Berklee College of Music and Middle East Downstairs, this innovative, inventive, and immersive experience will touch down at colleges and hot spots in eight major college markets across North America before finishing up in Los Angeles April 2 at UCLA and The Palladium.

Learn more about CNTRL here.
Richard "Richie" Hawtin (born June 4, 1970) is an English-born Canadian electronic musician and DJ who was an influential part of Detroit techno's second wave of artists in the early 1990s and a leading exponent of minimal techno since the mid-1990s.
Hawtin is known for DJing techno sets making use of laptop computers and digital mixing equipment. In May 1990 Hawtin and fellow second-waver John Acquaviva founded the Plus 8 record label, which they named after their turntable's pitch adjust function. In 1998, Hawtin launched M_nus Records.
http://en.wikipedia.org/wiki/Richie_Hawtin​



(This text was provided as copy by the tour, and was not created by Voices Staff. However, we thought the music and arts community might find it interesting, so we are posting it as is. We can't confirm this material, we can only share it.)

In 2012,
CNTRL established a groundbreaking model of daytime lectures on music, technology, and their intersection and nighttime performances that proved to be a first for the genre. Now, that template expands and evolves for 2015, hitting more markets across the country along the way. Once again, the brand allows attendees a new kind of insight into the music in addition to a powerful and potent concert that literally places the day's words in motion.
This time around, the enlightening musical happening confidently lives up to its title of "Individuality & Creativity In Technology-Based Music." Featuring Ean Golden of DJ TechTools as seminar moderator, the day basically functions as a college for future electronic music stars. Guitar Center in the U.S. and Moog Audio in Canada will run a five hour technology marketplace, offering students exclusive discounts on participating brands while lectures are happening. Each sponsor will be unveiling and flaunting new products. Technology companies participating are:
AIAIAI / Beatport / DJ Techtools / Funktion One / Little Bits / Livid
Pioneer / Roland / Splice / Subpac / Traktor (Native Instruments)
At the centrepiece of CNTRL: Individuality & Creativity In Technology-Based Music, there is an hour-long masterclass produced and hosted by one of the world's premier electronic music schools Point Blank Music School. The day culminates on a discussion with RICHIE HAWTIN, Ean Golden, and DJs at each respective date as well as special guest speakers. For example, Grimes will join the tour for a discussion in Los Angeles. As Claire Boucher, she has performed at Hawtin's Enter.Ibiza in the past. At night, attendees get to witness everything come to life during a fiery gig by CNTRL's namesake and a myriad of top artists and revolving line-up depending on the city.
"I hope that people walk away from the CNTRL tour with a deeper understanding and appreciation for the individual creativity that each artist & performer puts into their own shows. We hope that some of the participants and fans will be inspired to take their next steps at trying their hands at their own creativity," says HAWTIN.
"Berklee has always been about teaching the music of our time, and with so much of the sound of contemporary music shaped by technology, it's an important part of what we do here. Richie Hawtin has been a pioneer in using technology not only to create music, but to reach out to audiences and shape the tools used by other musicians. He's a natural fit for what we do here at Berklee," says Michael Bierylo, Chair, Electronic Production and Design, Berklee College of Music. "CNTRL has been a great way for our students to learn directly from working professionals at the top of their game, and it's been a natural extension of their classroom studies. We are proud to work with Richie and the CNTRL tour."
About the tour, Ean Golden adds, "CNTRL is a collection of inspiring artists who have taken control of their career and forged original paths through the music industry. By going out on the road and directly speaking to fans, this tour will move aspiring artists to find their own voice, and believe in the possibility of success, even if it doesn't fit the typical music molds of today."