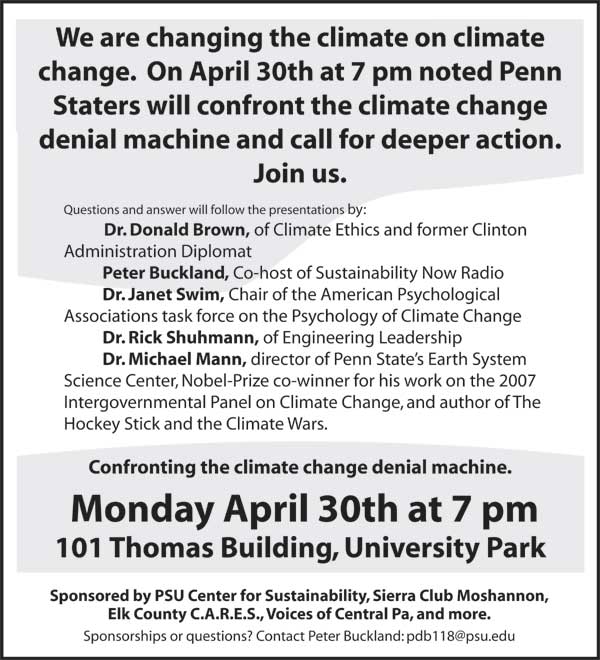 We are changing the climate on climate change.
On April 30th at 7 pm noted Penn Staters will confront the climate change denial machine and call for deeper action.
Join us.
This event includes presentations by:
Dr. Donald Brown. of Climate Ethics and former Clinton Administration Diplomat
Peter Buckland, Co-host of Sustainability Now Radio
Dr. Janet Swim, Chair of the American Psychological Associations task force on the Psychology of Climate Change
Dr. Rick Shuhmann, of Engineering Leadership
Dr. Michael Mann, director of Penn State's Earth System Science Center, Nobel-Prize co-winner for his work on the 2007 Intergovernmental Panel on Climate Change, and author of The Hockey Stick and the Climate Wars.Questions and answer will follow the presentations.
Confronting the climate change denial machine.
Will you act?
April 30th at 7 pm Venue TBA.


If you would like to sponsor this event or have questions,send them to Peter Buckland: [email protected]
Watch this page for more information.
Join the SUSTAINABILITY NOW Facebook Group
This event sponsored in part by Voices of Central Pa.