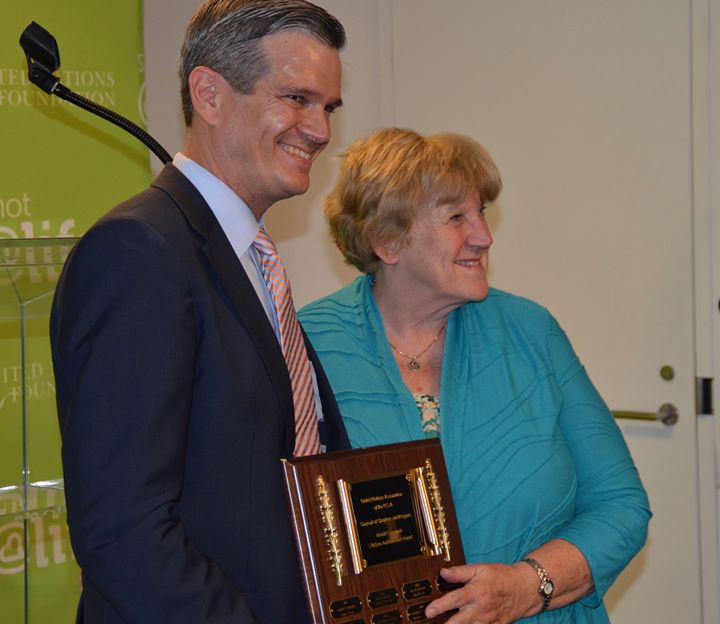 Norma Keller Recognized for Her Commitment to Strong U.S.-UN Relations
DALLAS (June 23, 2015) – Earlier this week Norma Keller, of Tyrone, was presented with the Albert Goodman Award for Lifetime Achievement, given by the United Nations Association of the USA (UNA-USA). The award recognizes Ms. Keller for her commitment to strong U.S.-UN relations, and was presented at a ceremony at the Unite
d Nations Foundation office in Washington, D.C. on June 8th.

"Norma Keller is a most deserving recipient of the Albert Goodman Award for Lifetime Achievement," said UNA-USA Centre County Chapter President Robert Lumley Sapanski "Through her decades of dedicated service with UNA-USA, Ms. Keller is a passionate advocate for peace and justice throughout the world."

The award was presented to Ms. Keller during the Annual Meeting of UNA-USA. More than 200 UNA-USA members gathered in Washington, D.C. for three days of experience-sharing and workshops, consultations, meetings and receptions. The meeting culminated with an Advocacy Day on Capitol Hill, with more than 100 constituent meetings by UNA-USA members with their House and Senate representatives.

The award is named after another Wisconsin-based advocate for the UN and UNA-USA, the late Albert Goodman of Racine, who is a former chair of the Wisconsin Governor's Commission on the UN.
For more information, please visit
www.unausa.org.
ABOUT UNA-USA
The United Nations Association of the United States of America (UNA-USA) is a membership organization dedicated to informing, inspiring, and mobilizing the American people to support the ideals and vital work of the United Nations. For 70 years, UNA-USA has worked to accomplish its mission through its national network of Chapters, youth engagement, advocacy efforts, education programs, and public events. UNA-USA is a program of the United Nations Foundation. UNA-USA and its sister organization the Better World Campaign represent the single largest network of advocates and supporters of the United Nations in the world. Learn more about UNA-USA's programs and initiatives at
www.unausa.org.