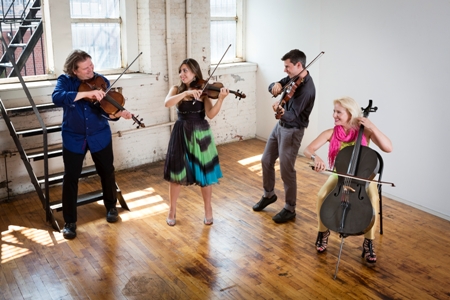 MUSIC OF THE SUN feat. String Quartet ETHEL + Tao Resident/Flutist Robert Mirabal
"…mystical and primeval…the music seemed to pull the listener inside to evoke landscapes of distance, isolation or grandeur."
– Daily Gazette
WHAT: Music of the Sun concert feat. ETHEL + Robert Mirabal
WHERE: Juniata College, 1700 Moore Street, Huntingdon, PA
WHEN: Friday, April 5th at 7:30PM
TICKETS: $20. To purchase, visit http://www.juniatapresents.com or call (814) 641-5849.

For thousands of years humankind has turned toward the sun for inspiration, be it spiritual, philosophical, or poetic. Ancient sun myths from around the world continue to fascinate scholars and laypeople alike. In many Native American cultures each day begins with "running to the sun" -- a fusion of spiritual and physical discipline -- a daily search for the sacred.
ETHEL, the pioneering string quartet, and GRAMMY®-winning Native American flutist Robert Mirabal present a program inspired by the sun mythology of Native America. Using the instruments of the string quartet, Native American flutes (Tdoop - Pootse) and drums (Mooloo), as well as the spirited voices of students and community members, ETHEL and Mirabal unite to create a cross-cultural contemporary music event. This extraordinary collaboration grew out of the ETHEL/Mirabal work on TruckStop®, which premiered at the Brooklyn Academy of Music in 2008.
Included on the program are collaborations on Robert Mirabal's compositions as well as arrangements of ancient Native American music for strings, flutes, percussion, and voices*. ETHEL presents complementary original repertoire and the works of contemporary composers such as Marcelo Zarvos, John Luther Adams, and others.
About ETHEL: Described as "indefatigable and eclectic" (The New York Times) and "vital and brilliant" (The New Yorker), the string quartet ETHEL continues to be a pacesetter of post-classical music. Formed in 1998, the New York City-based ETHEL comprises Ralph Farris (viola), Dorothy Lawson (cello), Kip Jones (violin) and Tema Watstein (violin). ETHEL performs adventurous music by celebrated contemporary composers such as Julia Wolfe, Phil Kline, David Lang, John King, Raz Mesinai, John Zorn, Steve Reich, Kenji Bunch, JacobTV, Don Byron, Marcelo Zarvos, Evan Ziporyn and Mary Ellen Childs. Upcoming highlights for the 2012-13 season include: a concert tour of the Netherlands; a week-long workshop/performance of "ETHEL's Documerica" at New York City's Park Avenue Armory; and nationwide tours of "Tell Me Something Good" with rock icon Todd Rundgren, of "Music of the Sun" with Native American flutist Robert Mirabal, and of "And Other Stories..." with guitarist Kaki King. ETHEL currently serves as the Ensemble-in-Residence at the Grand Canyon Music Festival as part of the Native American Composers Apprenticeship Project, and as the official house band of TEDxManhattan. For more information, please visit http://www.ethelcentral.org.
About Robert Mirabal: Musician, writer, singer and storyteller, Robert Mirabal is Native America's most dynamic and best-selling artist. In addition to the music and instruments he creates, he is also a celebrated painter, poet and playwright. He is the author of A Skeleton of a Bridge, a book of poetry, prose and short stories. Mr. Mirabal is the recipient of a National Endowment for the Arts Award, three GRAMMY® awards and the New York Dance and Performer's "Bessie" Award for composition. www.mirabal.com
__________
april thibeault │amt public relations
440 e 79th st #9k nyc, ny 10075
p 212.861.0990│c 917.355.8359
skype: amtpublicrelations
*NYU Stern MBA Candidate*