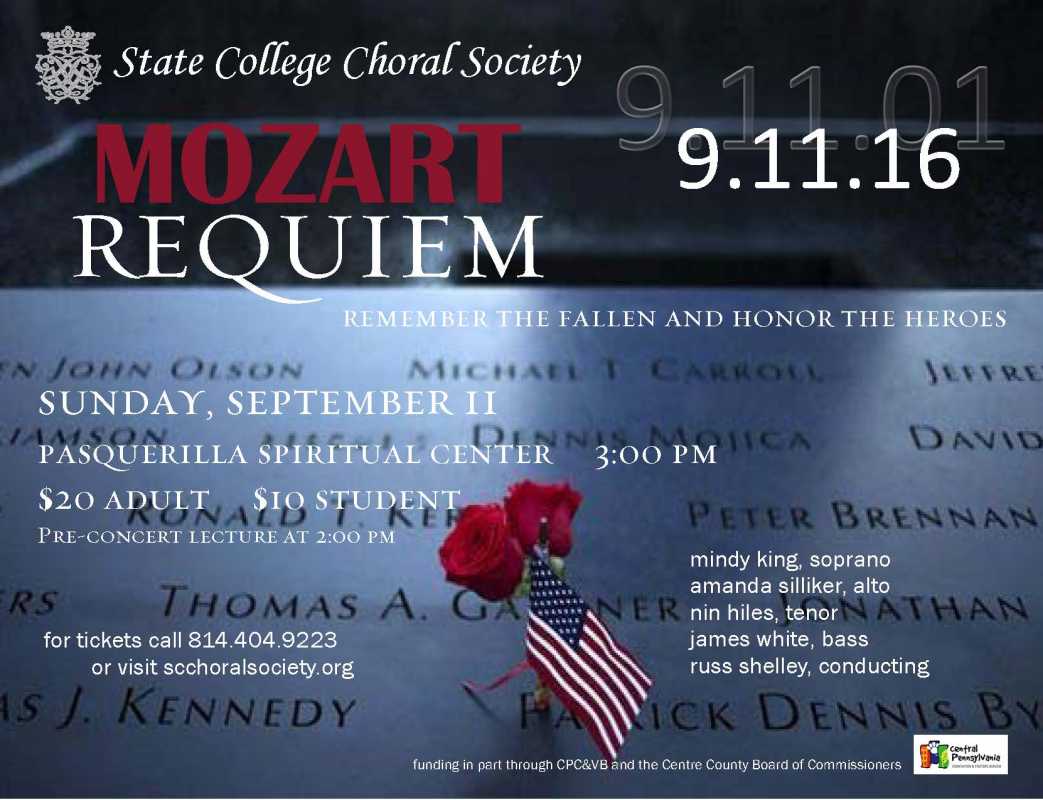 The State College Choral Society will present the first performance of its 68th concert season:
IN REMEMBRANCE 9/11: 15th Anniversary Commemoration
Sunday, September 11, 2016, at 3:00 p.m. Worship Hall, Pasquerilla Spiritual Center, Penn State University
MOZART REQUIEM
Mindy King, soprano
Amanda Silliker, mezzo-soprano
Nin Hiles, tenor
James White, bass
On this 15th anniversary, we gather to remember the fallen and honor the brave heroes of September 11, 2001. The familiarity and timeless weight of Mozart's Requiem is the perfect piece to share in this profound community event. The 120-member Choral Society chorus will be augmented by members of the State College Area High School's Master Singers, and joined by a 24-piece orchestra, for this performance. In addition, special guest performers from local elementary and middle school choirs will open the concert.
Free pre-concert lecture begins at 2:00 p.m.
Concert sponsor: The Red Oak Foundation
Additional support: Central Pennsylvania Convention and Visitor's Bureau and the Centre County Board of Commissioners
Tickets: $20 general admission
$10 students, veterans, active duty military, first responders.
Available at the door, online at www.scchoralsociety.org or call 814/404-9223 for information.