The February 2012 Issue of Voices is out!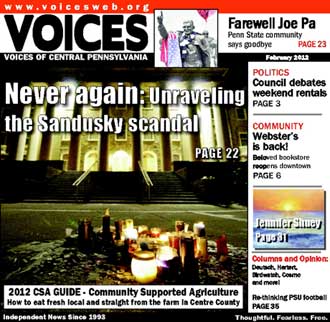 PDFs of the VOICES February 2012 Issue:
Frontcover, Contents, Editorial - Farewell Joe Paterno
Politics and Economics - Council debates weekend footbal rentals
Community and Lifestyles - Webster's bookstore to reopen soon
Environment - PSU studies fracking and wellwater
University - Unraveling the Sandusky scandal timeline
Arts and Entertainment - Jennifer Shuey landscapes
Opinions and Backcover - Joe Paterno an educator remembered
Pick it up at a distributor, or at our online archive.
Please write comments on the issue page here.