The March 2012 issue of VOICES is out!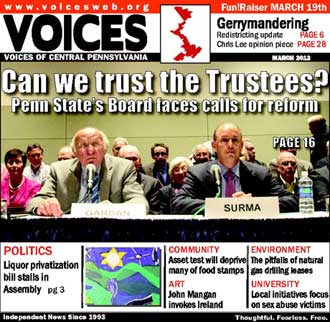 PDFs of the VOICES March 2012 Issue:
Frontcover, Contents, Editorial - Can we trust the Trustees?
Politics and Economics - Alcohol sales reform stalls in assembly
Community and Lifestyles - Asset test to qualify for food stamps
Environment - PASA speaker looks at Marcellus leases
University - Board of trustees faces calls for reform
Arts and Entertainment - Mangans work invokes spirit of nature
Opinions and Backcover - Lend us your voices
Pick it up at a distributor, or at our online archive.
Please write comments on the issue page here.