The May 2012 Issue of VOICES is out.
PDFs of the VOICES May 2012 Issue:
Frontcover, Contents, Editorial - Penn State's Numbers Game?
Politics and Economics - Corbetts budget neglects senior citizens
Community and Lifestyles - DSCID Director aims to boost local economy
Environment - Local foods forum inspires Centre residents
University - Penn State's struggle for diversity
Arts and Entertainment - The art and life of Lynd Ward
Opinions and Backcover - The "transparency" of the Trustees
Pick it up at a distributor, or at our online archive.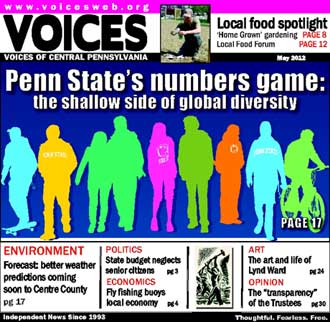 Please write comments on the issue page here.