The February 2010 issue of VOICES is out!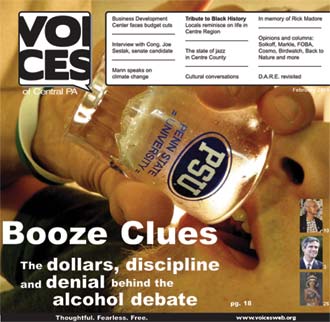 PDFs of the VOICES Feb 2010 Issue:
Frontcover, Contents, Editorial - challenges for 2010
Politics and Economics - state cuts funding for small business
Community and Lifestyles - shamanic poses offer path to subconscious
Environment - has Centre county embraced hybrids?
University - competing interests cloud alcohol debate
Arts and Entertainment - local jazz scene at risk
Opinions and Backcover - climate change science
Pick it up at a distributor, or at our online archive.