The April 2010 Issue of VOICES is out!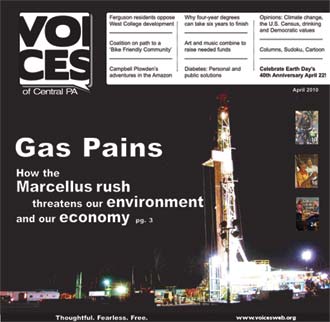 PDFs of the VOICES Apr 2010 Issue:
Frontcover, Contents, Editorial - Marcellus shale issues
Politics and Economics - Marcellus drilling threatens environment, economy
Community and Lifestyles - Disabilities info expanded at voiceweb.org
Environment - Local hazardous dams
University - Four year degree takes longer for many
Arts and Entertainment- Art & music groups unite to raise funds
Opinions and Backcover - Climate change endangers us all
Pick it up at a distributor, or at our online archive.
Please write comments on the issue page here.