The September 2011 issue of VOICES is out!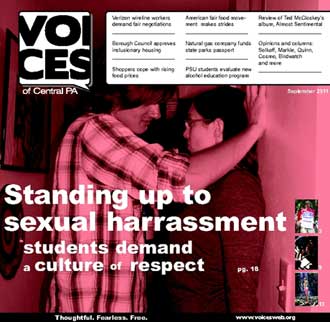 PDFs of the VOICES September 2011 Issue:
Frontcover, Contents, Editorial - Demanding a culture of respect
Politics and Economics - Centre County school districts defy trend
Community and Lifestyles - Rising food prices strain budgets
Environment - Fair food and food justice
University - Students confront sexual harrassment
Arts and Entertainment - Local artist community ventures world vision
Opinions and Backcover - No jobs till Americans have money to spend
Pick it up at a distributor, or at our online archive.
Please write comments on the issue page here.