by Doug Mason
Doug Mason, long-time volunteer and writer for Voices, witnessed the execution of a death row inmate in 1996. What follows is his first hand account.
While the following article does not follow the newspaper convention of objectivity, the editorial staff deemed the perspective so valuable that it is presented here.
-Elizabeth Timberlake-Newell, editor in chief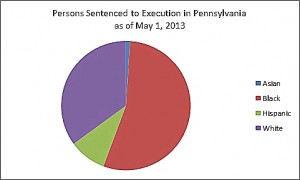 The most terrible places I've ever visited include the Vietnam Theatre of War, Auschwitz-Birkenau, Hiroshima/Nagasaki and Michigan City, Indiana. It was at the latter, on the condemned's bequest, that I witnessed the state-authorized murder of Ziyon I. Yisrayah (slave name: Tommie J. Smith) on July 18, 1996, at the Indiana State Prison.
I had been in communication with Ziyon since shortly after his partner-in-crime, Ajamu Nassor (s/n: Gregory Resnover), had died horribly in the electric chair on December 8, 1994 (the last Hoosier who was electrocuted).
Nassor's attorney, Bob Hammerle, never took another death penalty case after focusing on the haunting sight in 1994: "2,300 volts surged through his body – jolting it up in the wooden chair against restraining straps, sending a flash of flame and a wisp of smoke up from his head, and permeating the witness room with a sickly sweet scent of burnt flesh."
During this period, I should note that I was coordinator of the Indianapolis Peace & Justice Center.
The pretense that lethal injection was a peaceful and painless way to execute prisoners began unraveling shortly after it was first used in Texas in 1982.
Before Ziyon's legal lynching, there were many horrific intervenous executions. Among the worst: Stephen McCoy, 5/23/89, TX; Robyn Lee Parks, 3/10/92, OK; Justin Lee May, 5/7/92, TX; Emmitt Foster, 5/3/95, MO and Rocky Ray Rector, 1/24/92, AR. Lethal injection, using Chapman's protocol, then involved the administration of three drugs in this order: sodium thiopental (Pentothal) to render the victim unconscious; pancuronium bromide (a chemical relative of curare) to cause paralysis and eventual death by asphyxiation; and potassium chloride to stop the heart from beating.
In the cases of the five condemned listed above, the anesthetic Pentothal wasn't effective, and the executed were awake when the caustic pancuronium was pumped into their veins. Essentially, the men experienced terrible burning pain as they suffocated and then suffered massive heart attacks.
The Death Penalty Information Center considers Ziyon's execution to be another classic example of a botched execution. In his case, because of unusually small veins, it took an hour and nine minutes for Ziyon to be pronounced dead after the execution team began sticking needles into his body.
After 16 minutes, a physician attempted to insert the tube in Ziyon's neck. Failing that, the catheter was inserted in his foot. Only then were we witnesses permitted to view the process, as the drugs were injected 49 minutes after the first attempt to stick him with needles.
Perhaps worse than the physical pain is the psychological torture of waiting for the fated evening (Ziyon was scheduled to be killed several times, as late as June 14, 1996). But except for a few witnesses, the penalty is essentially carried out in secret, as Sister Helen Prejean describes so well in her book, "Dead Man Walking." Ziyon died 20 minutes after the drugs began to flow.
When I arrived at the Indiana State Prison (not far from the University of Notre Dame) before midnight, there were two crowds gathered outside. On one side, a silent candlelight vigil was being held by contemplative opponents of the death penalty, many of them clergy or otherwise religious, who held signs calling for an end to capital punishment, or at least a stay in Indiana's first lethal injection.
On the other side of the police cordon, a boisterous bunch was yelling things like "Fry him instead!" and some carrying placards with obscene messages. According to the Indiana Evening Gazette, one witness tried to sell his ticket to view the execution amidst this crowd of capital punishment proponents. The scent of blood was clearly in the air on both sides of the prison walls.
The ten witnesses assembled at the gates were ushered through the Visitors' Center, then accompanied into the courtyard to the center of the complex, and into a darkened room in the security supervisors' building.
Inmates we passed in nearby cellblock B were clearly outraged about the forthcoming execution, protesting by banging hard items on their bed frames, jumping up and down, yelling, swinging hard on the bars of their locked-down cells, angrily twirling truly terrible towels, etc. After we properly identified ourselves and finished the paperwork to the satisfaction of security, guards escorted us down "Main Street" to the prison chapel.
Just after filing in, a violent thunderstorm began with multiple lightning strikes, and the area was soon inundated by the summer downpour. This occurred at about the same time as the execution team began their efforts to stick needles in Ziyon's body, strapped on the gurney in the nearby death chamber. As we walked out of the chapel, I noticed a sign, "There but for the Grace of God."
Shortly after we were seated in the chairs of the witness room, the Venetian blinds on a large window parted to reveal Ziyon in the death chamber.
The gurney had been cranked up vertically so that he could face the witnesses and make any final statement (Ziyon's eyes were closed the whole time, and he said nothing). His head was then bagged under a black death mask, and the gurney was returned to its horizontal position so the execution could begin. A sheet covered most of Ziyons' body, the catheter tube curling up to and under his covered left foot. He seemed to be unconscious, and the scene was almost peaceful, in some perverse fashion.
In reality, it was anything but idyllic…surreal and more than a little creepy. As I examined the room in greater detail, it became increasingly downright horrific. And finally, though Ziyon was alive, he seemed dead.
Several times, the tube straightened due to pressure of the lethal chemicals that coursed into Ziyon's body. Hospital curtains, which were open and clumped together at either corner of the gurney, swayed in the breeze created by a fan. The only other movement was made by the coroner and guard in the chamber as they shifted from foot to foot. After about 20 minutes, the blinds closed again, and shortly thereafter, the witnesses were guided back to the Visitors' Center where we had first entered the prison grounds.
Somehow, when the blinds folded for the last time, Ziyon appeared alive even though he was physiologically terminated.
Those of us with press credentials were allowed to go upstairs for a press conference announcing that Ziyon was officially declared dead at 1:23 a.m. It should be noted that I had been asked to write a piece for the Indianapolis indie paper, NUVO Newsweekly, that stirred a political uproar with the following headline: "Bayh (then Gov. Evan, later U.S. Sen.), Goldsmith (then Mayor Stephen, who previously prosecuted Ziyon's case) and State: Getting Away With Murder."
Goldsmith tanked his rise in the GOP when he resigned as NYC's deputy mayor in August 2011 after he was arrested for domestic violence in July 2011 at his home in Georgetown, D.C. (his wife Margaret also suffers from lupus).
Jackie Austin, an anti-capital-punishment organizer who had traveled from Wisconsin, was the other foe of the death penalty in the witness box. At the press conference, she raised a concern that Ziyon appeared to have been sedated, despite his insistence that no such drugs should be administered, as a tenet of his Black Hebrew faith.
I asked why they disregarded another of his other humble last requests…he didn't want to wear the black death mask during his final moments.
Indiana Department of Corrections spokesmen disregarded both questions (although one grimaced, perhaps thinking of a possible last facial expression from Ziyon).
At least one of the guards at the conference radioed that there were "protesters" in the press room. Somehow, Jackie and I got out alive from both sides of the gate. An extremely loud roar of delight was expressed by the most bloodthirsty of those assembled outside when their radios announced Ziyon's demise as we exited the prison.
All states that still execute inmates have adopted the practice of staging executions, but there have been many more botched lethal injections since Ziyon left this world.
Hospira Inc., the sole Food and Drug Administration–approved manufacturer of Pentothal, ceased production in January 2011. Novartis, a Swiss pharmaceutical corporation, tried to export its generic version, as did Dream Pharma (a distributor operating out of a driving school in London).
Export of drugs for such purposes is illegal, although Nebraska did receive a supply that it later destroyed from Kayem, a supplier in India that now refuses to sell the poison because it is inconsistent with the "ethos of Hinduism."
Without a source of Pentothal, the states that still dispense the death penalty want to use the barbituate pentobarbitol, also called Nembutal, which is used by veterinarians to put pets to sleep and was used by Nazis to kill the mentally challenged and ill in 1940, before BASF began mass-producing Zyklon B for extermination camps.
A few of the 31 states that still execute want to use pentobarbitol alone; such lethal injections would avoid questions of torture regarding Pancuronium and potassium chloride. Thomas Kemp was put to death in Az. on April 27, 2012, using that single drug method in Arizona. According to Kemp's lawyer Tim Gabrielsen, the inmate began to "shake violently" when injected.
Most compellingly, innocent people have been executed in America. Joe D'Ambrosia, freed in 2010 by Ohio, was the 140th Death Row exoneree since 1973 (there have been 18 post-conviction DNA exonerations of condemned innocent men alone, who together served over 200 years on death row), according to the Innocence Project.