"Earliest Boalsburg Deeds and Genealogy Back to 1764"
Submitted by voicesweb on November 19, 2008 - 5:34am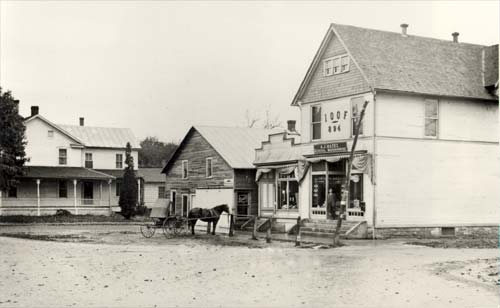 Historic Boalsburg photos brought by the public such as this view of the Boalsburg village square circa 1895 will be scanned at the December 7 meeting in Boalsburg for inclusion in the upcoming Boalsburg 200th birthday book "Boalsburg Then and Now." The December 7 event which is open free to the public also includes "This Land is Your Land," a presentation of the earliest land records of the Boalsburg area dating back to 1764. (Photo Credit: Centre County Historical Society).
"This Land Is Your Land" December 7th Presents
Earliest Boalsburg Deeds and Genealogy Back to 1764
(Boalsburg, PA) --
Boalsburg, already nationally known as the birthplace of Memorial Day in 1864, on December 7 will go back one hundred more years to 1764 to reveal Boalsburg's very earliest land records and genealogy in a historical program, "This Land Is Your Land."
Using primary land documents dating back as far as 1764, Connie Randolph will present a program open free to the public on Sunday, December 7, at 3 pm upstairs at Duffy's Tavern on the square in Boalsburg at the annual meeting of the Boalsburg Village Conservancy.
The Conservancy is also inviting the public to come to the December 7 with historic Boalsburg and Harris Township photos to be scanned and returned on the spot for inclusion in the upcoming Boalsburg 200th birthday book, "Boalsburg Then and Now."
The 1808 village of Boalsburg, David Boal's 1804 tavern, and the 18th century Boal Estate are all situated on three large tracts of land first deeded in 1764 to Thomas Skidmore and Thomas and Benjamin Poultney as the plantations of Harmony, Success and Union.
Randolph
will discuss the earliest ownership of these tracts based on the results of her new research into primary sources and how they evolved into the sites we know today as historic Boalsburg. She will also discuss the migratory patterns of the earliest settlers, including the Boal family.
At the same meeting, planners of the Boalsburg 200th birthday celebration will present previews of the historic house tour scheduled for Memorial Day weekend 2009 and some choice historic Boalsburg photos already scanned by the committee.
The program will take place on the same day as the Boalsburg Hometown Christmas celebration which features wagon rides, historical exhibits, music and food throughout historic Boalsburg from 1 to 4 pm.
For details, go to
http://boalmuseum.com/bvc.htm
or contact Boalsburg Village Conservancy president Christopher Lee at 814-466-9266 or
[email protected]
.