Trains Poised for Comeback in Central Pa.
Submitted by voicesweb on March 4, 2008 - 10:53pm
Trains poised for comeback in Central Pa.
by Dan O'Brien
Photo by Michael Bezilla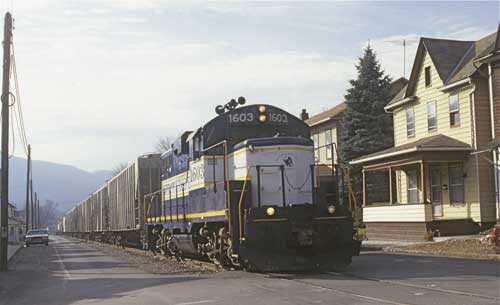 More than a dozen empty cars make up this Nittany and Bald Eagle Railroad train passing through Tyrone on its way to Bellefonte, where they will be delivered to customers for loading lime and stone. The N&BE, based in Bellefonte, serves industries in Centre, Blair and Clinton counties.
Once a vital method for transporting goods and passengers in Pennsylvania, the region's railroad system has fallen into disuse. But it may be poised for a comeback.
The U.S. transportation system has relied heavily on oil-dependant highway and air travel while allowing other forms of transportation to become almost obsolete. But with gasoline prices rising and shortages considered inevitable, previously neglected transportation methods are beginning to look more attractive.
James Howard Kunstler, author of the book The Long Emergency and an advocate for railroads, said it won't be long before we will need to rely on the railroad system.
"I think the happy motoring system we depend on today isn't going to work very well. Our commercial air system isn't going to be able to survive the energy crisis," Kunstler said. "If we're going to want to get around North America, we're going to need the railroads."
According to Kunstler, the railroads are more energy-efficient than other forms of transportation. Since trains can run on coal and electricity, they could reduce the need for oil.
According to the Gov. Ed Rendell's 2008-09 proposed executive budget, on average, a cargo train has the carrying capacity of 280 trucks.
Strides are being made in Pennsylvania to use railroads as an alternative energy source.
Last year, 36 companies requested $90 million in state funds to be used to improve rail freight lines. However, the state's $20 million budget could only accommodate 12 companies. Responding to the problem, the proposed budget increases funds to $30 million a year for the next three years.
As part of Pennsylvania's Rail Freight Economic Development Program, 1.6 million carloads have been utilized to eliminate the use of 6.4 million trucks over the last two years.
Michael Bezilla, author of the book Rails to Penn State: The Story of the Bellefonte Central, said the railroads are not only more energy-efficient than automobiles; they also make more economic and environmental sense.
Pennsylvania is an example of how the use of tractor trailers for carrying goods and the high number of passenger automobiles have worn down the highways, causing maintenance costs to rise.
According to the governor's budget plan, since 2003, Pennsylvania has tripled its bridge-repair funds and spent $3.8 billion on bridge repairs. Nevertheless, the number of defective bridges has increased from 5,587 to 5,935, the highest in the country.
The report proposes that Pennsylvania spend $15.5 billion to repair 1,000 bridges over the next three years. An additional $200 million in funds would be added in each of the next 10 years.
Bezilla said it's not far-fetched to suggest these problems may cause railroads to become a major method for transporting goods and passengers.
"It's simply rearranging the system," Bezilla said. "I think we are just on the cusp of doing so. It may just take a generation."
Thousands of miles of abandoned railroad tracks crisscross the United States.
Several efforts have been initiated to preserve the unused tracks. Rails-to-Trails, a nonprofit organization, raises money to preserve abandoned railroad tracks and convert them into walking and bike trails to promote physical exercise. So far, the organization has helped build more than 13,000 miles of rail-trails.
The rail-trails can be converted back to railroad tracks, and there are thousands of additional miles of tracks available in the event of a return to railroads as a major transportation method.
According to the state budget, Pennsylvania ranks fifth in the country with 6,000 miles of tracks, but it ranks tenth in utilization.
If such a shift were to occur, central Pennsylvania's railroads, which were once an essential resource for transportation, could become even more important to the region's economy.
The railroads played a major role in the development of central Pennsylvania. Dating back to the 1800s, railroads, such as the Bellefonte Central Railroad, were used to transport goods and passengers from town to town and iron ore and limestone to markets around the country.
The use of railroads for interurban transportation contributed to the development of towns like Bellefonte and State College.
"It is safe to say the railroads played an essential role in the economic development of the area," Bezilla said. "Central Pennsylvania wouldn't have the population or standard of living it does today without railroads, and neither would the United States."
Railroad use declined during the initial automobile-industry boom in the middle of the 20th century. Passenger and freight lines were abandoned for the highways.
Despite the decline of railroads in the United States, trains are a common method of interurban and international travel in Europe, which has a massive rail system.
Kunstler said he thinks that the United States should emulate systems that exist in places like Europe.
"There is no question that most other major industrial nations have far better railroad systems than the United States," Kunstler said. "It doesn't take a huge stretch of the imagination to see how it could work here in North America, but it lacks the political will."