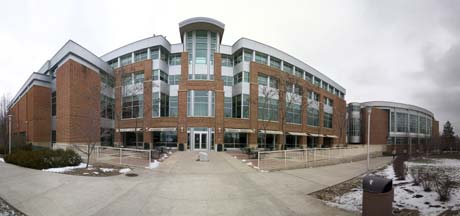 by David Reinbold
Despite opposition from the University Park Undergraduate Association, the Penn State board of trustees, in a May 16 meeting, unanimously approved a new facilities fee recommended by university President Graham Spanier.
The fee, to be used for nonacademic facility improvements, will start at $50 per semester this fall. It will be increased to $100 the following year and then pegged to the rate of inflation. The new fee will push total student fees above $300 a semester—that in addition to the highest tuition of any public university in the United States.
UPUA had raised concerns about the already high cost of attending Penn State, the absence of details on the destination of the fee money and the methods used to determine student demand for the fee, but to no avail.
According to UPUA President Gavin Keirans, UPUA presented its fee recommendation to Spanier, but there was no response.
"It was like, 'Thank you for your recommendation, but we'll ignore you now,'" Kierans said.
Annemarie Mountz, assistant director of public information for Penn State, declined to comment on the facilities fee. Bill Mahon, vice president for university relations, and Lisa Powers, director of public information, could not be reached for comment.
Tom Shakely, founder and executive director of student advocacy group Safeguard Old State, said the university has to work toward shared governance for it to perform as originally intended.
"I think there are certainly real good ways to get things done, and ways we can get back to that will benefit us as a land-grant school," Shakely said. "Giving one old man inside a building the last word on everything at a land-grant university is wrong."
Shakely said Spanier asked him for input on the fee, but his suggestion that UPUA hold a referendum on the issue received the same response as the UPUA recommendation.
"If you're going to raise a fee to the entire student body, you're going to have to have every student's voice counted," Shakely said. "I think that this facilities fee, in the way it was pushed upon students, is like the final nail in the coffin for shared governance at the university."
Instead of allowing students to vote directly on the fee or looking to UPUA to speak on behalf of the undergraduate student body, the administration hired Brailsford & Dunlavey, a facility planning and program management firm that deals extensively with universities, to survey student sentiments regarding recreational space.
According to the Brailsford & Dunlavey Web site, the company's mission is to "emphasize the facilitation of our client's decision-making processes and the relentless execution of their vision."
Unfortunately for proponents of the facilities fee, the survey of 676 students enrolled during the fall 2005 semester found no significant dissatisfaction with current facilities or their availability.
The question "How satisfied are you with the following aspects of the existing recreational sports and fitness facilities and programs on campus?" yielded telling results:
About 75 percent of the respondents said they were very or somewhat satisfied, 20 percent indicated they were neutral or not familiar enough with the issue to respond, and less than 6 percent expressed dissatisfaction with the state of recreational facilities and programs.
"These numbers speak for themselves," Shakely writes on the Safeguard Old State Web site, "and this piece of evidence alone should shame administrators like Stan Latta who so brazenly influenced this report and are today frantically pushing for the new student fee."
Rather than dwell on the responses from the more than 500 students who expressed satisfaction with existing recreational facilities, administrators pointed to the more upbeat results of a two-day focus-group survey to demonstrate interest in the facilities fee.
But about a quarter of the 42 participants in the focus group were faculty or staff, and 15 participants were involved in intramural or club sports, which, Shakely points out, makes them more likely to favor an expansion of recreational facilities.
"I think it's a classic move by the administration," Shakely said of bringing in an outside company to manufacture student demand. "It's in a company like Brailsford & Dunlavey's interest to demonstrate this want and demand. If they didn't, they wouldn't make any money."
If it's not about student demand for expanded recreational facilities, what's behind the new fee?
Some see the facilities fee as a way for the university to garner more expendable income in the absence of sufficient state funding. This spring, Spanier asked Harrisburg for $357.4 million, a 6.9 percent increase in the university's state appropriation. The legislature gave him an increase of 0.7 percent.
Another theory is that expansive recreational facilities and shiny, new eateries and student meeting areas would boost Penn State's national ranking and admission numbers.
"Every Big Ten school is increasing facilities," Kierans said. "It's becoming an arms race to see what kinds of students we can get here at Penn State."
In Spanier's January 13 report to the board of trustees, he announced that the university expected to receive more than 100,000 applications for admission this year—a new record—making Penn State "the most popular university in the country."
Shakely said Penn State is paying too high a price for perfection.
"In order to be competitive, must be we the costliest?" he said.