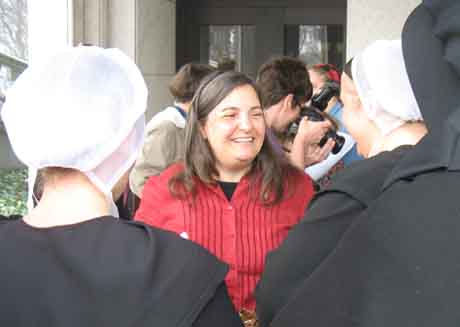 Photo by Reuben Ward
Certified professional midwife Diane Goslin and her supporters celebrate a Commonwealth Court decision granting her permission to continue assisting homebirths for the Amish.
by Aaron Troisi and Stephanie Chapman
As organized medicine continues to crack down on the illegal practice of professional midwifery in Pennsylvania, certified professional midwives, energized by a recent legal victory, are beginning to fight back.
Certified professional midwives, who are allowed to practice in 21 states but have been banned in Pennsylvania since 1985, are organizing to change state law to allow for licensure of CPMs.
The medical establishment contends that only nurse midwives―who are licensed by the state―working in collaborative agreements with physicians are qualified to attend homebirths.
"Midwifery is as safe as, if not safer than, hospital births," said Steffany Hedenkamp, campaign communications coordinator for The Big Push for Midwives, a national campaign working with the Midwives Alliance of Pennsylvania to advocate for regulation and licensure of CPMs in Pennsylvania.
"Legislation must be changed," Hedenkamp said. "And who can argue with that, except those who benefit financially by keeping midwives from practicing?"
Doctors argue that CPMs practice without adequate training or certification.
"It's difficult for patients to know who has satisfactory qualifications and who does not," said Dr. Charles A. Castle, of the Centre County Medical Society. "The important criterion is that there be satisfactory training and appropriate certification for individuals that practice midwifery."
The Pa. Board of Medicine, the American Medical Association and the Pa. Medical Society―all headed by physicians―are working to eliminate the practices of health professionals, including midwives, not licensed by the state.
In 2006, the AMA created the Scope of Practice Partnership, a program intended to monitor and regulate individuals not certified by the state. According to the partnership, "state-based regulation of medicine should be aggressively protected."
The Board of Medicine, a partner in SOPP, is in charge of seeking out and prosecuting unlicensed practitioners.
"I don't feel really free, because the Board of Medicine could come after me or anyone tomorrow," said Krystn Madrine, retired Centre County CPM and co-chairwoman of the Midwives Alliance of Pennsylvania.
"Behind closed doors, doctors are being instructed to get rid of the 'midwife problem,'" she said. "But they didn't take into account how we would all fight back."
The midwives' campaign, which has received vast support from Amish communities across the state, was buoyed by a May 23 Commonwealth Court decision granting Lancaster County CPM Diane Goslin permission to continue assisting homebirths for the Amish.
Goslin, who is certified by the North American Registry of Midwives, had been fined $11,000 and issued a cease and desist order by the Board of Medicine for practicing medicine without a license. The panel of judges concluded that practicing midwifery cannot be construed to be the same as practicing medicine.
According to Judge James Gardner Colins, who wrote the majority opinion, Goslin provided many of the same services as nurse midwives: prenatal checkups, assistance with labor and delivery, postpartum care, newborn examinations, issuing birth certificates and so on.
"There is nothing in the record to indicate that Ms. Goslin has been providing these services in anything less than an exemplary fashion to women," Colins wrote.
"The record reveals―and the Board does not contest―that Goslin has an exceptional degree of experience and certification from a highly regarded national midwife organization," he added. "The Board has not asserted that Goslin has ever practiced in a negligent or dangerous manner."
More than 700 Amish turned out for Goslin's court appearance, according to Madrine.
Goslin called the charges part of a "continual witch hunt" by the Board of Medicine to "round up and dispose of" her colleagues throughout the state.
None of the members of the Board of Medicine responded to repeated requests for comment.
Goslin has worked as a midwife for more than 25 years, primarily for Amish families. She said she will continue to practice.
Her supporters described the decision as "a stinging blow to both the Pennsylvania Medical Board and the Pennsylvania Medical Society."
The relationship between the medical society and the Board of Medicine extends beyond the SOPP.
A former medical society president, Dr. Carol E. Rose, currently sits on the Board of Medicine. The son of one board member, Dr. Charles D. Hummer Jr., is vice chairman of the Pennsylvania Medical Political Action Committee, the medical society's lobbying front in Harrisburg.
In 2007, PAMPAC contributed more than $13,700 to Superior Court Judge Maureen Lally-Green's unsuccessful state Supreme Court bid.
"We try to remain as neutral as possible," the medical society's director of media relations, Chuck Moran, said in reference to the organization's campaign contributions. "There are projects we work on where we know people will be against us."
No midwives are involved with the society, Moran said.
"What they effectively try to do is shut down everyone who is not a physician," Madrine said.
"I think that the state wants reasonable levels of assurance that people are practicing safely," Goslin said, "but people should be able to screen people for themselves, to ask questions and decide for themselves what they want."
Of the more than 5,000 babies she has helped deliver at home, only three suffered nongenetic deaths, Goslin said.
"I don't know a hospital that has those kinds of statistics," she said.
The ban on CPMs particularly affects homebirths, as doctors and nurse midwives rarely practice outside of hospitals, due to high insurance costs and fear of malpractice suits. Because of its thriving Amish and Mennonite communities, Pennsylvania has more homebirths than any other state.
Following the Goslin decision, the AMA passed a resolution to discourage homebirths and to "develop model legislation in support of the concept that the safest setting for labor, delivery, and the immediate post-partum period is in the hospital."
According to a 2005 British Medical Journal article, homebirths are as safe as hospital births and tend to be associated with higher rates of satisfaction among mothers.
Homebirth continues to be practiced in Amish communities and is also growing in popularity among the general population.
"We serve a lot of non-Amish," Madrine said. "I've done a lot of Penn State professors and lots of well-educated folks."
Goslin added that she has worked with "cardiologists, professors, nurses and tennis pros."
"This is not an Amish issue," Goslin said. "We feel like everybody has the right. This should be open for everybody."