Thank you, Bob Brownlee, for all you did for voters and voter rights
Submitted by voicesweb on February 3, 2012 - 8:50pm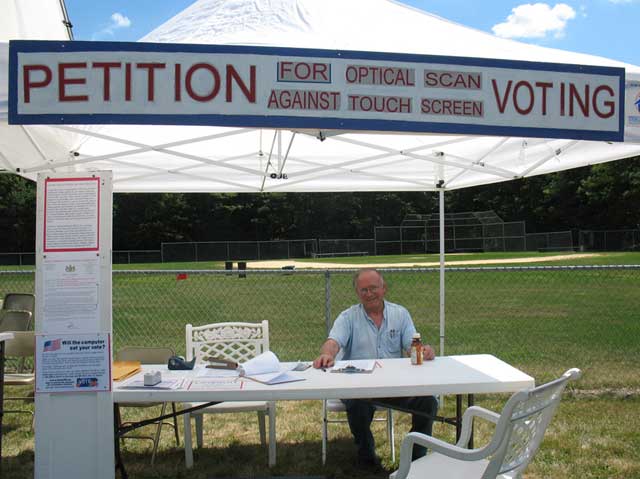 I am so sad to say that we lost a great friend today.

I still remember the first time i ever talked to Bob Brownlee,
he called me about the voting machines.
I forget if the commissioners had already bought the machines
or were about to, but I had given up. I was frustrated and tired.
I said, "Sorry, it is too late, it is over, we lost the battle."
But, Bob was not going to give up the fight!
He was determined!
He put ads in the newspapers, wrote letters to the editors,
went to all sorts of public and private events and gatherings with petitions.

He informed the public about the voting machines
and helped get new Commissioners elected to change the machines!
He didn't stop till we were voting on paper ballots.

I soon learned that his determination wasn't limited to the voting
machine issue,
but he was always speaking out for what was good and right.

That is what I will miss most,
not only Bob's actual voice, on the other side of the phone
saying "Hey, this is Brownlee, do you have a minute..."
but his voicing out -- his letters to the newspaper, his emails, his
posts on facebook.

One of the last quotes he posted on facebook is this:
"I cannot accept that to be realistic means to tolerate misery,
violence and hate. I do not believe that the hungry man should be
treated as subversive for expressing his suffering. I shall never
accept that the law can be used to justify tragedy, to keep things as
they are, to make us abandon our ideas of a different world. " --
Oscar Arias Sanchez

That was Brownlee, unwilling to accept the unacceptable, and always
willing to speak
the truth in his smart, informed, sometimes uncensored, and always
courageous voice.
reminding us that it's not over, till it's over.

Thank you Bob for all you did for us,
and especially for inspiring us to keep up the good fight.
We will miss you so much.

Mary Vollero

--
"We're not perfect, but they're nuts."
--------
Barney Frank