Gas company's lost "Landsman's Handbook" reveals the deceptive practices of the Marcellus fracing industry
Submitted by voicesweb on April 18, 2011 - 4:31pm
"Do not discuss the chemicals"


Lessons from the landman's handbook

The story of the "Landman's Manual" hit the Internet with a flourish last week. Many of you may have seen this from other news sources and listservs.

First, a bit of background. The term landman refers to an agent hired by a gas company to negotiate with landowners in order to get a lease signed at the lowest possible price per acre, with the lowest possible royalty payments for any extracted gas.

John Trallo, an RDA member and resident of Sullivan County who has been tireless in his efforts to oppose the gas industry's industrialization of PA, tells the story as it unfolded. Trallo writes:

"A few weeks ago, I received an email from a woman in Ohio regarding gas drilling. Apparently, someone had forwarded some emails and postings I sent out. The woman had expressed serious concerns about drilling, stemming from reports of problems in Pennsylvania, West Virginia, Arkansas, and Texas that included ground water contamination, reduction in air quality, public health and safety issues, and property devaluation. She told me about a "Landman's Manual" that she acquired when it was dropped in her driveway after a landman had visited her trying to get her to sign a gas/oil lease. She was concerned about retaliation from the landman, and/or the company he represented, and was reluctant to distribute this to the press. I assured her that her identity would be protected, and that I would look the manual over. Based on my own experiences in dealing with landmen, the combined experience of many people I know, as well as industry reports such as the 2009 Certus Strategies report "Managing Stakeholder and Community Resistance to the Marcellus Shale Gas Extraction Project" (delivered at the Pennsylvania Natural Gas Summit in 2009), I've no doubt that this document is genuine. I also contacted the company who dispatched the landman, but my calls were not returned. I therefore decided to distribute the manual to the press, various community groups, and PA legislators."

These are the highlights:

Don't give them time to think: "It is critical to obtain a lease signature in the first meeting, or at least the agreement to sign and take the lease to a notary. Drive them to the notary if you have to."

Avoid talking about the environment: "At any point in the pitch if talk turns to local issues, environmental hazards, etc.. a good way to re-direct the conversation is to re-engage over the nation's energy needs and the desire to be oil self-reliant."
Whatever you do, don't let them talk about fracking: "Hydraulic Fracturing, 'Fracking' - This technique to develop gas resources is coming under scrutiny, both in the mainstream media with articles appearing in the New York Times, and even in Hollywood with the movie 'Gasland'. Expect questions on this topic and be ready to diffuse land owner concerns."

Really, really avoid talking about fracking: "If anyone knows about slick water fracturing, avoid the topic. DO NOT discuss the chemicals and other material used during slick water fracturing. The best strategy is to say that the chemical mixtures used are proprietary and are highly diluted with water when injected. Reassure landowners that no well contamination has ever been documented. Do not mention water contamination in Pennsylvania."

Truck traffic is awesome: "Just tell landowners the more trucks, the more royalties. Money will normally deflect most arguments."

So what if it's noisy: "If pressed for details tell them we monitor noise to ensure it is approximately 80 db at 200 feet. They will likely not understand the details, and will not admit that the technical data means little to them. Do not compare it to anything tangible, like train noise or airplane noise. Stick with the numbers, they provide the truth but make it hard to understand the exact implication."

Denial is a river in drilling country: "Some might ask how many wells will be in a square mile. Don't answer that question. Most landowners will not realize that 10-20 wells can be placed in a square mile."

Don't worry about water: "Residential owners will not know that we pull water directly from the local aquifer."

What radioactivity?: "ENSURE you tell the landowner that we use NO RADIOACTIVE materials. The radioactivity comes from natural sources in the ground and is released by the process, but don't tell them this. Most landowners will not know."

The value of your home is not important: "Multiple studies have shown that property values decrease for land with oil and gas leases on the property. Avoid this topic. Some major banks have stopped issuing mortgages on properties with leases for mineral and oil/gas rights, including Wells Fargo, Bank of America, and other large financial institutions. This is a no-win discussion point. "

Did I mention to avoid fracking?: "The overall plan is to drill exploratory wells, and then use more advanced techniques to get at the small oil pockets we find. This will require multiple well heads, where we pump in a high volume of water and chemicals, in much the same manner as in the fracking process. DO NOT DISCUSS this point. We want no correlation between fracking and enhanced oil recovery processes."

Whatever you do, don't talk to women: "Men are more likely to sign than women. Men don't like to believe that you know more than they do, so they are also less likely to ask questions. In the state of Ohio, the husband can sign the lease without spousal permission. Go that route if required. Tell them it is their decision. Write the lease agreement with only the husband's name on the paperwork. This will make it more likely that they will sign alone. Men are also more conservative, and more likely to want oil and energy independence. Women will have more concern for the environment and will challenge you more often. Knowing who to approach can seal the sale."

Still not willing to sign?: "Tell the landowner that all their neighbors have signed. Even if the neighbors have not, this often will push an undecided landowner in favor of signing."

The Rider Park Story
Do you recall the recent "Save Rider Park" campaign? Most of you no doubt signed the petition that eventually helped to persuade Williamsport's First Community Foundation to cast the unanimous vote that denied the gas industry the right to drill in the park's 800 acres. Earthjustice, a non-profit organization that has been of significant help to RDA on numerous issues, has created a video telling the story of the Rider Park campaign and the tireless efforts of Jim and Jen Slotterback, RDA members who deserve the lion's share of credit for the campaign's success. In these times of disappointment and setback on so many fronts in the gas-drilling arena, this touching tale of victory is sure to warm your heart. Watch the video here:
http://earthjustice.org/features/campaigns/find-your-way-a-citizen-s-tip-guide

What do lunch breaks and drilling permits have in common? About ½ hour, start to finish


According to court statements obtained by the Associated Press, four Department of Environmental Protection (DEP) staffers testified that it only takes about 35 minutes to review and approve a drilling permit, and each staff member reviews thousands of such permits. The DEP staffers also admit failing to give the additional scrutiny (as required by law) to permit applications to drill near exceptional or high quality waters.

DEP employees testified, behind closed doors in a lawsuit filed by citizens and environmental groups, regarding a drilling permit that DEP issued for an exploratory gas well near a pristine stream in the Delaware River watershed.

The AP report suggests that permit-to-drill applications are rushed through the system with little scrutiny and rarely rejected. DEP staffers claim to be overburdened and unable to comply with existing laws as they struggle to deal with the unparalleled drilling boom that has turned Pennsylvania into a Mecca for the growing number of foreign and domestic energy companies seeking to drill here.

Since 2005, of the 7,019 applications that DEP has processed, only 31 have been rejected — less than one-half of one percent.

Concerned about your well water, air and soil?

Learn how to get the lab testing you need, but may not be able to afford.
Plan to attend this FREE event to be held in Hughesville on Tuesday, April 26th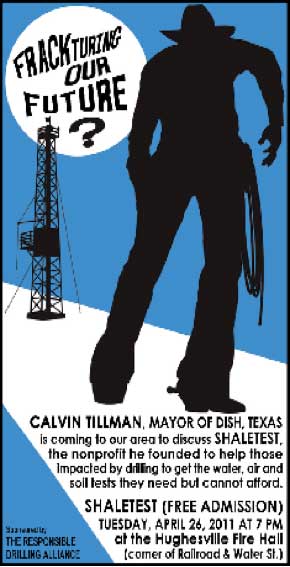 Speak Out About Marcellus Shale Gas Drilling!
Protest at Gov. Corbett's Marcellus Shale Advisory Commission Meeting
Wednesday, April 27
11:30 – 1:30
Outside the DEP office, Rachel Carson State Office Building
400 Market St., Harrisburg, PA 17101
Gov. Corbett has established a Marcellus Shale Advisory Commission that is stacked with gas drilling companies and campaign contributors. We need to let them know that we want a real Commission that is balanced and represents people who are impacted by gas drilling. The state should listen to what people in Pennsylvania really want them to do about Marcellus Shale drilling. They shouldn't just listen to oil and gas companies. Join us in speaking out on April 27!
The Commission will be meeting from 10:30 – 3:30. You can sign up at the meeting to give public comment to the Commission, most likely at 3:00.
Endorsed by: Gas Truth of Central PA, Peach Bottom Concerned Citizens Group, Community Action Forum on Marcellus Shale Gas (Lancaster Co.), Clean Water Action, Protecting Our Waters, Transition Harrisburg, PA Campaign for Clean Water
--
Responsible Drilling Alliance, Board of Directors
Ralph Kisberg
Jon Bogle
Robbie Cross
Barb Jarmoska
Kathy Scott
Janie Richardson

Email: [email protected]
Website: http://www.responsibledrillingalliance.org
Address: Responsible Drilling Alliance, Box 502, Williamsport PA 17703