Bike-in Film Series Coming to a Park Near You
Submitted by voicesweb on March 5, 2008 - 10:22pm
Bike-in film series coming to a park near you
by Kevin Gombotz
Photo by Kevin Gombotz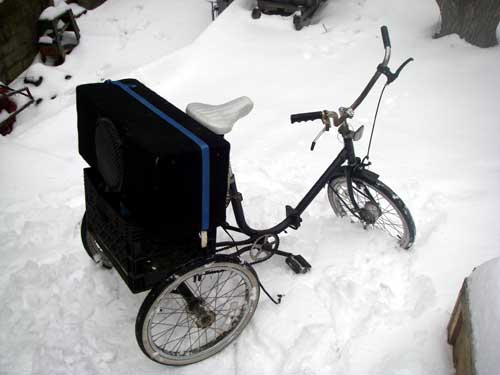 The stereo trike awaits the warmer weather of summer, when it will stand in glory, center stage, powering a Centre Region bike-in film series.
This summer, going out to the movies can involve a little less gas and a little more grass.
That's because two local organizations are teaming up to bring a bike-in film series to a green space near you. 
Centre Region Parks and Recreation and the Centre Region Bike Coalition hope to attract young and old alike to three evenings in front of the big screen in three area parks. 
Biking in means that getting there is half the fun. 
"This is about families and friends getting out on their bikes to have a good time," said CRBC President Chuck Anderson. "The more we do it, the more we realize biking is a safe, viable, fun way to get around."
Open-air screenings are scheduled for three Friday nights in Tudek, Sunset and Spring Creek parks. Saturday nights will be held as rain dates, should the weather turn against the pedal pushers. 
Bike-in movies aren't new in the local indie scene. Last summer, movie-lovers with their ears to the rail took in films on the star-soaked concrete screens of urban streetscapes temporarily coopted by mobile projection artists.
In other years, the Downtown Improvement District has sponsored films in Central Parklet in State College.
According to Beth Lee of Centre Region Parks and Recreation, the new film series is the first after-hours programming of its type to come to parks outside downtown State College. By hosting each bike-in event in a different municipality (College Township, the borough and Ferguson Township) organizers hope to showcase the diversity and accessibility of park resources in the Centre Region.
In the spirit of independence and mobility that seems so common to two-wheelers, event promoters plan to use a battery-powered audio/visual tricycle to project the films. There are even plans to equip the tricycle with a solar charger and pedal-operated generator in the future. Attendees should be cautioned that some audience participation may be required.
Of course riding to an after-dark event means riding home when it's, um, really dark. Anderson was quick to remind attendees of the importance of using proper equipment: a headlight, a taillight, reflective clothing and a helmet. He added that CRBC members will be conducting "safety checks" for moviegoers before and after showtime as a friendly courtesy.
Don't have a bike? That shouldn't deter you, organizers said. 
"Grab your skates, your skooter or just walk," Lee said. Park locations were chosen for their accessibility to bikeways that are great for a variety of human-powered modes of transportation.
While actual film titles and dates are not yet available, CRPR's summer leisure guide is due out April 6. For more information, stay tuned to www.crpr.org and www.centrebike.org.

This stereo trike awaits the warmer weather of summer when it will stand in glory, center stage, powering a region bike-in film series.