Strange (fake?) Facebook profile for "Jared Laughner" appears shortly after that mispelled name made public.
Submitted by voicesweb on January 8, 2011 - 6:12pm
Shortly after the news sources first began releasing the earliest reports about the person accused of the shootings of Gabrielle Giffords (D Az), incorrectly mispelling the name Jared Lee Loughner as Jared Laughner, this facebook profile was discovered and the link was circulated in the blogosphere.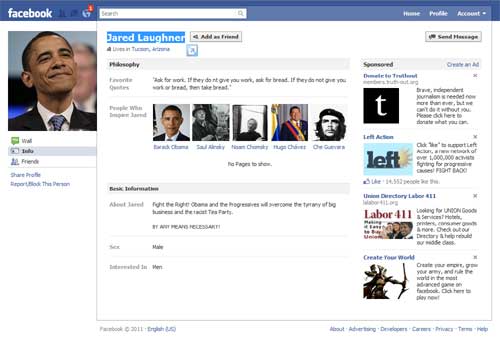 Screencapture of Facebook profile taken 1/08/2011 4:30pm.
Url of profile http://www.facebook.com/profile.php?id=100001952074770
With images of President Obama, various noted intellectuals and leftists, a statement indicating homosexuality preferences, and anti Tea Party and revolutionary slogans, it seems possible that it was a deliberate attempt to distribute disinformation.
Slogans and text placed on the profile include:
"Ask for work. If they do nt give you work, ask for bread. If they do not give you work or bread, then take bread.".
About Jared
Fight the Right! Obama and the Progressives will overcome the tyrrany of big business and the racist Tea Party.

BY ANY MEANS NECESSARY!
Jared Lee Loughner's presumed Youtube profile is located at http://www.youtube.com/user/Classitup10 and contains 5 videos uploaded between 1 month and 3 weeks ago.